Welcome to Maid2Clean, the UK's premier domestic introductory cleaning & ironing provider.
Local Warrington business owner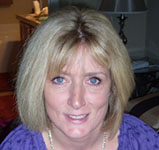 Maid2Clean Operator Maria Johnson is the proud local owner of Maid2Clean Warrington. Here is a personal message from Maria.
"Welcome to Maid2Clean Warrington website. To best serve your requirements we have a dedicated team providing the highest standards of customer service and support. Having conducted hundreds of interviews for domestic house cleaners, we have very strict selection criteria with only one in ten applicants being interviewed. Even fewer of these are offered work as domestic cleaners.

Once we've checked their references, experience and their eligibility to work the very few who make the grade are introduced to Clients. You as our client get to re-interview the cleaner again in your own house to get to know the cleaners attitude to work and discuss any needs that you have. We always endeavour to find the right cleaner as soon as possible. All cleaners are reference checked, eligible to work in the UK and have been interviewed in their own homes and we make no apologies for that. This extra mile of due-diligence is important to our clients. Please call us (or complete the form), we'd here to help serve you."
Here's What We Do for You
If you would like some help with the house cleaning work or ad-hoc chores at an entirely affordable price then Maid2Clean can provide a domestic house cleaner local to you in Warrington. We have a great reputation for sourcing quality and trusting cleaners in the Warrington and surrounding areas and indeed our other branches serve throughout the rest of UK.
We look to meet your individual requirements with our extensive database of vetted and insured home-help cleaners and ironers. You will have the opportunity to interview the selected cleaner and once you're happy that person will become your regular cleaner.
Maid2Clean's regular cleaning service starts from a modest cost per hour and there are no hidden charges. The more hours you have the cheaper the service becomes.
Domestic Home Cleaning Services in Warrington
If you wish to go ahead with Maid2Clean then there are two services we can offer you. Firstly, we can offer a one off clean, also known as a Blitz® clean. This is perfect if you are moving house, renting out your home or changing tenants then you may want a one off spring clean otherwise known as a Maid2Blitz® clean.
If it's a regular service you are looking for then we can help with a weekly or fortnightly cleaner starting from £9.95 to £11.50 per hour depending on the number of hours you may require. Once you have met your worker and you are happy with the selection they will become your regular worker. Continuity of cleaner is best for you and the cleaner as nobody wants several people handling keys to their home. You can specify any requirements you may have and discuss with the cleaner which ones are priorities. We can provide you with a check-list for this purpose. Please call today to discuss and arrange for one of our cleaners to meet you.
The Low Cost of a House Cleaner in Warrington
If you book a house cleaner in the Warrington area through us the price decreases with more hours used. Please call us for a quotation.
But weekly domestic cleaning in Warrington is great value with no extras for providing a high quality service. A One-off blitz clean in Warrington costs £8 an hour for a home cleaner plus a £30 agency fee.
Would You Like to Become a House Cleaner in Warrington?
If you enjoy cleaning and housework are looking to work in the domestic cleaning sector then why not become one of our house cleaners in the Warrington area.
If you are honest, reliable and thorough, we can offer you part time work domestic cleaning in Warrington and the surrounding areas you choose to suit you. For insurance reasons, you need to be at least 21 to work as a home cleaner with us.
If you pass a phone interview and personal interview we could have you house cleaning in Warrington in no time!
So if you need help with the cleaning or you are interested in a domestic cleaning position with us then please apply today by visiting our online application form
If your area is not covered please contact us to see if we can still reach you!
What Our Clients Say
At Maid2Clean Warrington domestic cleaning agency we offer the following services for your convenience Maid2Clean offers domestic cleaning maids services / house cleaning / home cleaning / ironing / weekly cleans / fortnightly cleans/ one off blitz cleans/ cleaning services / home dusting, residence cleans /house maids / private residential cleaning and Maid2Blitz ® spring cleans.
Cleaning Services
At Maid2Clean we offer a full range of domestic cleaning services:
Furniture dusting
Floors & Carpets Vacuuming
Kitchen Units amp;Worktop Wiping
Bathrooms & Lavatory Cleaning
Hoovering & Dusting Paintwork
Oven & Cooker Hood Wiping
Internal Windows Cleaning
Ironing & Folding
We offer two types of services:
Regular Clean
A regular clean is a weekly clean, and includes general domestic and ironing duties. You'll first meet with the cleaner we select for you.
They will then become your regular cleaner enabling us to provide a personalised service to you. The hourly rate is from £9.95 per hour; this is the total hourly rate you pay, there are no hidden extras!
'One-Off' Clean
This is a 'One-off' Blitz clean, which is an intense spring clean. These cleans are based on a minimum of 2 hrs up to a maximum of 5 hrs per cleaner visit. As with our regular cleaner service, the cleaner will use the client's cleaning materials and equipment.
Call us on 01925 565042
Or click the phone to call

Call us on 0330 660 0621
Or click the phone to call

Looking for a Cleaning Job?
Click here to apply today!
Looking for an Interviewer Job?
Click here to apply today!

Simply have a look at our Cleaner Handbook and Cleaner Best Practice Pocket Guide
Please click here to learn more about recruitment at Maid2Clean Warrington.
If you live in any of the following areas we would be pleased to service your household needs.
We Cover The Following Areas
Postcode Areas
WA1, WA13, WA4