Maid2Clean Heswall's House Maids - Domestic Cleaning and Ironing Services
Are you looking for a domestic cleaner in Heswall?
Thank you for your interest in Maid2Clean Heswall's cleaning services.
Like assistance with your weekly home cleaning or ironing chores? Relax, we can help and are only a brief call away. Let us worry about your cleaning and sit back.
Helping you with your regular or ad hoc housework needs is what we are about. We can also do end of tenancy lets and builders cleans too.
Have you and your friends discovered that Maid2Clean is the best value number one local home cleaning company in Heswall & its surrounding areas for domestic duties and the foremost UK Company in its service sector?
Since setting up in 1993 we have serviced in excess of 2 million regular weekly home cleans in the UK to date. Our residential house cleaning and ironing services are offered throughout the Heswall & surrounding areas. We would love to service your home cleaning needs each week.
Maid2Clean's regular cleaning service starts from just £12.75 per hour and there are no hidden charges.
Why not use Maid2Clean, a reliable cleaning agency in Heswall?
Give us call on 0151 388 3342 for a quick, friendly chat or click here to book online.
Cleaning Services in Heswall
At Maid2Clean we offer a full range of domestic cleaning services:
✔

Furniture

✔

Floors & Carpets

✔

Kitchen Units & Worktops

✔

Bathrooms & Lavatories

✔

Ironing

✔

Hoovering & Dusting

✔

Internal Windows

✔

... and more!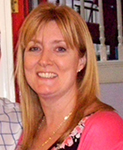 Maria Johnson is the locally based Maid2Clean owner in Heswall. Maria Johnson is the owner of the Maid2Clean Flintshire office. Here is a few words from Maria:
"Welcome to the Maid2Clean Heswall page. Our aim is to provide you with a reliable, honest and reference checked cleaner. Most of my time is spent on the road doing just that. We are here to provide the right cleaner for you as soon as possible. One in ten applicants makes it to the interview stage. Thereafter all our cleaners are reference checked, eligible to work in the UK and have been interviewed in their own homes. Your satisfaction is important to me. Please call us today (or complete the booking form) and our customer friendly team will be delighted to help find the right cleaner for you"
What do we do to help you remove your home cleaning burdens?
Your local Maid2Clean Heswall franchise supplies local cleaners for regular weekly, fortnightly or just occasional cleaning and ironing services.
As an agency, our primary services incorporate the finding and supply of home helpers and ironers to you and your friends in private residence dwellings in and around Heswall and nearby districts.
Maid2Clean Heswall registers workers to carrying out residential cleaning and ironing duties houses like yours in Heswall every week only after interviewing them in their own home to ensure they are capable of achieving the same standard of cleaning in their own homes.
We fix up the closest geographical cleaner to client, marrying up your client requirements with a local cleaner only after following up on their references. We go the extra mile on your behalf.
You get the chance to your cleaner and discuss your unique needs before taking her on. You have a right to request another worker at any time if you are not happy. Once you are happy, your cleaner will be the same person on a regular basis every week thereafter.
Your local Maid2clean Heswall office will manage a replacement cleaner for you where cover is required during periods of sickness and holidays.
95% of our clients prefer require a regular weekly clean but if you simply require a one-off clean then Maid2Clean Heswall can provide a spring clean services too. Many Maid2blitz clients became regular weekly clients.
Maid2Clean Heswall's Unique Service Points
1. We care about the local environment in addition to your house environment. We have local cleaners from the Heswall and local areas, no vans or materials, our carbon footprint is as small as it can be, even our leaflets are made from recycled paper and hand delivered on foot.
2. We guarantee that your Maid2Clean agency service price will never increase for as long as you continue using the same service hours with us.
3. A number of our interviewed and registered house maids and cleaners have been on our books for more than a decade.
4. By interviewing all cleaning applicants at their homes we can easily pick up on their individual standard of cleaning.
5. We will do our utmost to endeavour to provide you with the same cleaner each week for your peace of mind.
6. We do not claim to be the best domestic cleaning agency services provider – our clients tell us!
7. We will use reasonable endeavours to ensure you have a cleaner to interview as soon as possible after registering with us and will be given unlimited support thereafter.
8. The industry 'norm' is to supply a different team of cleaners to your house each visit. Your local Maid2clean franchisee understands that you are most likely to receive an excellent cleaning service from a maid that understands your cleaning and ironing needs over time, so we strive to meet your requirements with the same cleaner each week on a nationwide basis. By doing so you develop a long-term, happy and professional working relationship with your cleaning maid.
Maid2Clean offer two types of services:
Regular Clean
A regular clean is a weekly clean, and includes general domestic and ironing duties. You'll first meet with the cleaner we select for you.
They will then become your regular cleaner enabling us to provide a personalised service to you.
'One-Off' Clean
This is a 'One-off' Blitz clean, which is an intense spring clean. These cleans are based on a minimum of 2 hrs up to a maximum of 5 hrs per cleaner visit. As with our regular cleaner service, the cleaner will use the client's cleaning materials and equipment.
Pleace call us on 0151 388 3342 to learn more